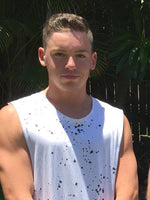 Jack's Story
Jack was always the life of the party, the energy in the room and was loved by everyone. He was a talented footballer and had just started an apprenticeship and had his whole life in front of him.
Tragically On Friday 13th December Jack's life was cut short in a senseless act of violence at the young age of only 17.
In honour of his memory, the family and a close group of friends have decided they want no other parent to experience the pain and grief they currently are living through and want to dedicate their efforts towards making necessary changes to the current youth laws, youth safety and more importantly putting together an education platform to teach the country's youth's about the dangers, repercussions and the snowball effect a single act of violence like this to one person has on the lives of so many.
Through education and change, we will make a difference and Jack's legacy will live on.